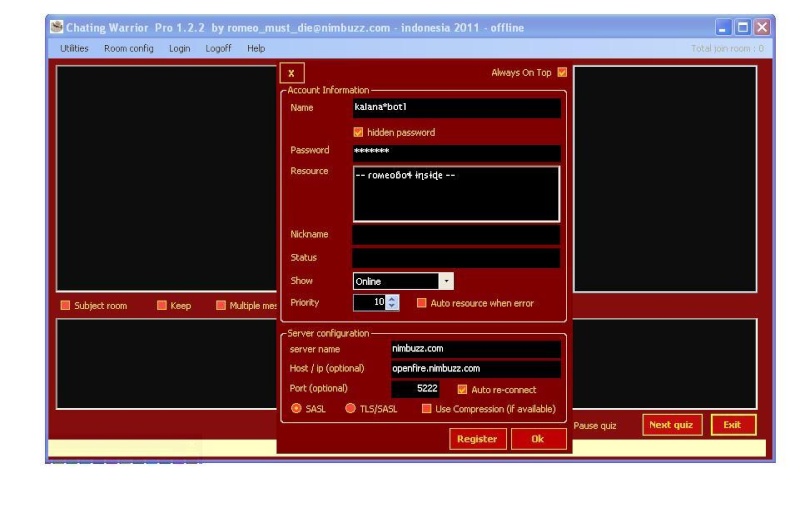 1. presents 3 types quiz bot 
a. Scramble quiz 
b. Math quiz 
c. Guess quiz 
2. Serves as the sensor room, so you can monitor the participant in the room, 
through the chatbot, list the words that you deem inappropriate for posting in 
the room, then the participant will be exposed to 3 criteria dubious visitors, 
kick and ban 
3. Functioning as a robot greetingsin to welcome participant entered the room, 
chatbot is designed smart with a few remarks are varied and you can create your 
own 
4. Functioning as a robot greetingsout, giving sentences that varied farewell and 
may also in combination with sentences that you like 
5. Functioning as a robot that can chat in the room, of course you do 
shall register the sentences that question and answer so that the robot looks 
intelligent and smart when chatting with the participant in the room 
6. Functioning as a robot that can provide specific comments, when 
participant hit kick visitors and tires 
and several other variations of the functions that you can set yourself 
Chatbot can be your long-distance remote either by the robot itself or by the owner and administrator in the room.  U WANT TO KNOW HOW TO MAKE BOT VISIT TO THIS LINK THIS LINK HAVE FULLY TUTORIAL U want to see this hiidden link reply anything
Dont Froget To Thanks   
join srilanka.@c..n.c room to meet new friends and enjoy new quiz!