U CAN MAKE IT FROM YOUR MOBILE NO PC NEEDED. . . . SO LET'S START ,

U NEED THREE THINGS TO MAKE A BOT

1.  A   SHELL   ACCOUNT
2. MIDPSHH    (FOR MOBILE USERS) [You must be registered and logged in to see this link.] or  [You must be registered and logged in to see this link.]
or
     PUTTY        (FOR PC USERS)              [You must be registered and logged in to see this link.]
3. NIMBUZZ ID FOR BOT
FIRST OF ALL U HAVE TO MAKE A SHELL ACCOUNT U CN MAKE IT HERE  ( [You must be registered and logged in to see this link.] /]  [/url]) U CAN ALSO CHOSE OTHER LIKE ([You must be registered and logged in to see this link.] OR [You must be registered and logged in to see this link.] ). I M CHOSING  [You must be registered and logged in to see this link.]


HOW TO MAKE CJB ACCOUNT

(you have to enter your e-mail address and they send u conformation e-mail to u and its done. . . U dont have need to log in to acount acount after conformation u cn log in thrugh midpish or putty . . . )
ONCE U HAVE CREATED UR ACCOUNT U R READY TO MAKE BOT. NOW MOVE TO SECOND STEP . . . . . IF U R MAKING BOT FROM MOBILE THEN U HAVE TO DOWNLOAD MIDPSSH TO ACCESS UR SHELL ACCOUNT YOU CAN DOWNLOAD IT HERE


midpshh-full-jar (trusted link)

or

midpshh-full-jar (alternative link)

HOW TO USE MIDPSHH

open session then new session host-shell.cjb.net, type- shh , your username and password (do not write capital letters) and its done, now type this command


"installhome unzip"

(this will install unzip to your home directory)

then after you have to type this command for downloading bot files


it will starts downloading file, after download completed type this command to unzip the file

"unzip aurora-ver-4.5.21.zip"

(all files will be extracted to home directory.)

now type this command "dir" to see directories it will show a directory named as "aurora-ver-4.5.21.zip" (depends upon the version you have downloaded)


now you have to configure bot to use it , type

"nano aurora/login.txt"

it will open a text document where u have to enter bot id and password.
NOTE- first enter your bot ID and password. then in admin enter your ID and password                               (your ID is safe, so dont worry)
you have to enter ur id otherwise bot will not take ur commands and don't forget to change resource to- "kf@altserver" (without quotes) ,write nickname same as bot id (small letters)


for more help see this screen short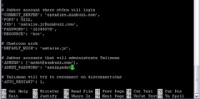 after entering id and pass press "cntrl+O" (goto option and select ctrl and then type O) then "enter" and then ctrl+X (goto option and select ctrl and then type X) to exit from nano editor..
"congratulations" now you have completed the toughest part of this trick now type below command to start the bot


"daemon python aurora/aurora-hi.py"
(for hindi users)
or
"daemon python aurora/aurora-en.py"
(for english users)
or
"daemon python aurora/aurora-pn.py"
(for punjabi users)
or
"daemon python aurora/aurora-ml.py"
(for malyalam users)

NOTE – REMOVE "DAEMON" IF YOU GET ERROR SOMETHING LIKE THIS "DAEMON IS NOT A VALID COMMAND".

( bot will start working it will come online)

NOTE – if it says directory not found then disconect ur midpshh and re-type this command, if some day bot will go offline just open your shell account and type this command again


now you can disconnect midpshh and exit from it ,bot wil remain online

 


just add bot id ( just send add request to bot and it'll add automaticly )

give command in pvt to control bot…

if some day bot go offline than again give daemon commands to restart it

"daemon python aurora/aurora-hi.py"
(for hindi users)
or
"daemon python aurora/aurora-en.py"
(for english users)
or
"daemon python aurora/aurora-pn.py"
(for punjabi users)
or
"daemon python aurora/aurora-ml.py"
(for malyalam users)

NOTE – REMOVE "DAEMON" IF YOU GET ERROR SOMETHING LIKE THIS "DAEMON IS NOT A VALID COMMAND".

it will start working again… enjoy

SOME  COMMANDS 



 join [You must be registered and logged in to see this link.]      (  to join a room – use small letters only )

 !autosend <duration in secconds> <message>      ( to send a message after described interval)

 .avatar <ID> ( to get the link of display picture of any user ) ( no need to write @nimbuzz.com )

 .users <room-name> ( to get the users of room )

 profile <jid>   ( to get the profile of the user )

list of all commands can be found in next blog or in the zip file itself.

for other commans goto – AURORA BOT COMMANDS

NOTE


please use ANTIKICK command to make sure that your bot will remain online always.

  if your are downloading bot files from any other source ,plz make sure that https is not acceptable by midpshh , so plz use http insteed of https
for example :- above given link of the bot file is not orignal its modified to use with midpssh .orignal link is here - https://superbot-aurora.googlecode.com/files/aurora-ver-4.5.21.zip  (https is replaced by http to use with midpshh)

do not use capital letters in commands ,as midpshh will not recognize those commands with capital letters.

ask me if you have any problem

Try [You must be registered and logged in to see this link.] if CJB is not working for you.